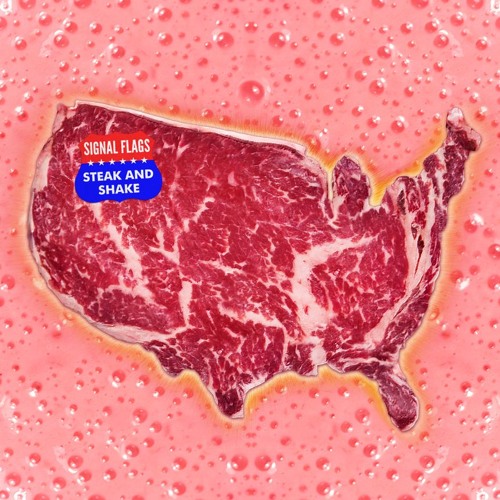 Seattle based indie rockers, Signal Flags, have been on both of my faves lists for several months now with their album, "Steak and Shake" as well as a song, "Brake Accelerator."
Well, the band (John Giaccone, Mitch Brasch, Dave Tingley, and Doug Patterson) has returned to my songs faves list with a Charlie Daniels Band cover of "Way Down Yonder." The way the band plays it, reminds me of Ten Years After. They clipped me again from my "Prime Time Theme Attic Show," so I'll let you decide for yourself:
I will feature another track from "Steak and Shake" that I haven't played yet, on my Monday night show from 8PM-10PM EDT!!
Here's a link to stream the show:
Listen live: www.whfr.fm/images/stream_audio.html
It can also be heard at 89.3 FM (WHFR) in the Dearborn—Detroit area!!!
It's also been two years since the night time version of "Theme Attic" known as "Prime Time Theme Attic" hit the airwaves! The actual date of the first broadcast was September 14, 2015. I decided to cover other themes for the past couple of weeks, but I do like to mark milestones. So, Monday night's show from 8PM-10PM EDT with Phil Maq will be a little looser than usual. I don't know how that's even possible, but we'll find out!
Songs by artists invited to the celebration will include Michael on Fire, Bill Edwards, Eileen Carey, Rosewater, Deni Bonet, Kate Jablonski, Happy Traum, The Hangabouts, Signal Flags, Joanie Leeds & The Nightlights, DownTown Mystic, Alison Krauss, Mark Lavengood (Mark Lavengood), Ed Dupas, Yusuf / Cat Stevens, and more!!! Tune in to @89.3 FM (89.3 WHFR.FM), Tune in Player App, or with this one time only two year anniversary link: http://whfr.fm/images/stream_audio.html Please share with your fans, friends, and families!!!
QQQQQQQQQQQQQQQQQQQQQQQQQQQQQQQQQQQQQQQQQQQQQQQQQQQQQ
If you like what you see, don't forget to spread the word by hitting the "like" button on my Facebook page, Phil Maq!