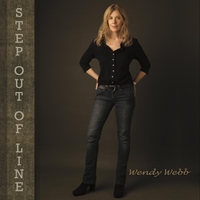 It's been more than two years since Wendy Webb released her multi-Philby Award winning album—including 2015 Album of the Year, "This Is the Moment," but she's taking care of that right now. Her latest album, "Step Out of Line," has just been released stateside, even though it has already been out in Europe since the beginning of the year.
It's well worth the wait!
The album consists of ten polished gems of many moods. Wendy and her dream list All Star lineup of grade-A musicians, including Dan Dugmore, Willie Weeks, Mark T. Jordan, Jim Horn, David Grissom, Wayne Jackson, Ron Krasinski, and more, have worked with some of the greatest artists in the past forty years ranging from The Rolling Stones to George Harrison to Linda Ronstadt! Wendy's talent fits in very well with those artists.
"Step Out of Line" is her fifth album. Wendy is a guide that takes the listener on a detailed musical journey through her lyrics. We visit "Camden Town" marketplace, "Mexico," a meeting with "Destiny's Muse," her alter ego "The Girl From the North Country," and a heartfelt "Freedom" ballad, but her ears are always open because she wants you to "Talk to Me."
There's touches of folk, Americana, pop, jazz, world, gospel, rock, and many styles in between. "Step Out of Line" is an album that has substance, soul, heart, and romance. And Wendy Webb has a voice that continues to amaze as it matures and emotes that wisdom!
This is one of the few albums that I was looking forward to when I knew it was in the works. My standards were high from her previous catalog. "Step Out of Line" far exceeded expectations!
QQQQQQQQQQQQQQQQQQQQQQQQQQQQQQQQQQQQQQQQQQQQQ
If you like what you see, don't forget to spread the word by hitting the "like" button on my Facebook page, Phil Maq!